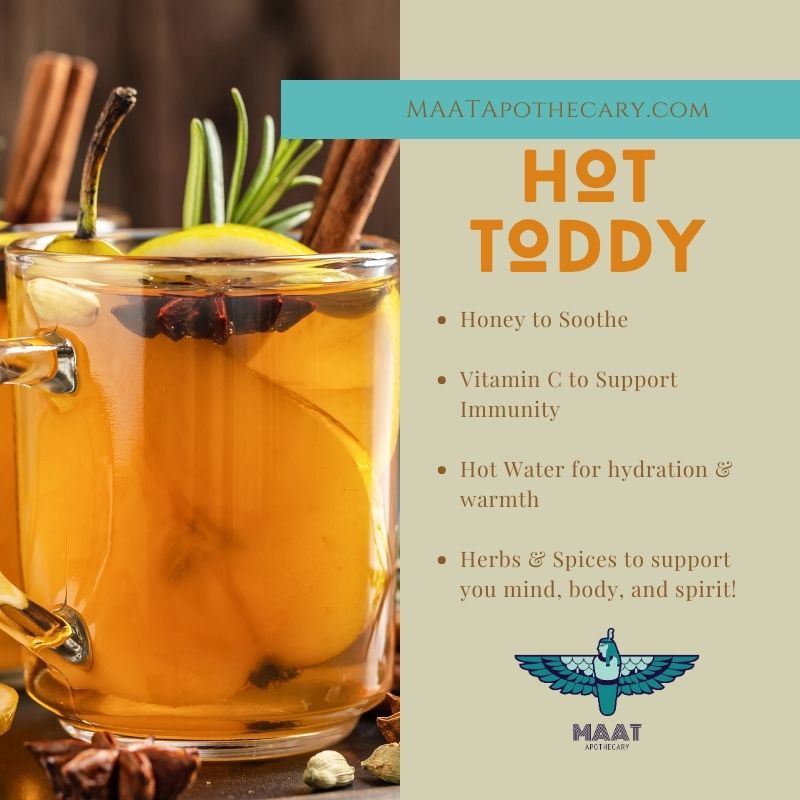 Relief is available in the most practical places. One of my favorite ways to enjoy is to pair it with Comfort and great memories. A favorite childhood memory was sipping my grandmas Hot Toddies while bundled up in a comfy blanket. The hot toddies were always fragrant, warm, and I always felt better after having one followed by a night of restful sleep. Grandma only issued these hot toddies when I was sick, so they were very special and rare. As an adult I can have hot toddies whenever i'd like and as a cannabis advocate I never forget to add the BUZZ!
Adding MAAT Apothecary's Cannabis infused Spiced Honey has been my addition to this tradition and I want you to try it and share with your loved ones. Why? Because local honey has hella benefits! Honey has been used since antiquity by our ancestors for it's ability to boost immunity, soothe the throat, ease coughing, as well as for other health benefits associated with it's Anti-Oxidants, Anti-Inflammatory, and Anti-Bacterial properties. Honey is also a fantastic natural sweetener that can enhance the flavor of your foods & beverages. This is very likely why ancestors combined it with citrus in the Hot Toddy to facilitate the healing process. Citrus fruits like Lemon, Orange, Lime, and Grapefruit contain "Vitamin C" which is an essential nutrient that's important for proper immune function. It's also an antioxidant like honey and is involved in aiding the repair of body tissues.
The entourage of healing and relaxation in every Hot Toddy is undeniable. We hope it becomes a staple medicinal drink in your household that makes it easier for you to reach your wellness goals and keep your immunity boosted!
Check out our step by step tutorial here!  Get creative and be sure to tag us @MAATApothecaryCa while you prepare and enjoy your Hot Toddy!
You can currently get our Cannabis Infused Spiced Honey at any of these Retailers!  You can support Social Equity in Cannabis by requesting MAAT Apothecary's Cannabis Infused Spiced Honey at your friendly local cannabis retailer.  
INGREDIENTS:
1 cup hot water
1 wedge of lemon
1 tsp MAAT Spiced Honey
Optional:
A Shot (1/3 cup) of whiskey
A Dropper of Tincture
1 tsp of Herbal Tea
Directions:
Boil water then pour over your lemon (herbal tea) and allow to steep for 5-10 minutes.  
Strain ( if using herbal tea )
Stir in MAAT Spiced Honey until combined (add your shot of liquor, drop of tincture, or garnish at this time if using).
Drink and enjoy!
As you drink your Hot Toddy, say a wellness affirmation for yourself. If you don't have one, try one these:
"Every cell in my body is working to make me well" 
"Every cell in my body works for my highest good" 
"I am healing with every breath." 
Always Claim your healing! Never claim your illness.
Ashe!